Tequila y Selva: Mexico, May 2021
Tequila y selva – a language, culture, and eco tour through Jalisco and Nayarit
In these crazy times of 2020, it feels good to dream of travel again, doesn't it? The thrill of getting on a plane, passport in hand, with the anticipation of knowing that where you land is going to transport you into different surroundings– the sounds, the smells, the sights. Every new sensation ignites your senses and reaffirms why you got on that plane: to immerse yourself into a new environment and remember that there are different ways to live life on this planet. The kind of travel that feeds your heart and soul. Anybody been missing this feeling?
We're turning these feelings into strong hopes of heading to Mexico in May 2021 for Tequila y selva (tequila and jungle), a unique cultural, linguistic, and ecological journey through the states of Jalisco and Nayarit. Starting out in Guadalajara, Mexico's second largest city, we will immerse ourselves in the rich cultural traditions of this metropolis. After our first night together in the artisanal zone of Tlaquepaque and a day exploring Lake Chapala and its surroundings, we will split into small groups and stay two
nights with Mexican host families in a lovely, safe neighborhood of Guadalajara. We will spend two mornings taking language and culture classes in downtown Guadalajara. These small-group classes are tailored to your level. Beginner? No problem! Your sessions will help you get your basic "survival Spanish" down. Advanced/native speaker? Still no problem! Your sessions will be tailored to include Mexican cinema, music, history, and current events. We will explore the historic cultural center of Guadalajara and get to know this land of mariachi and tequila.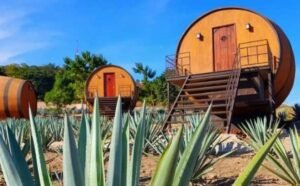 Speaking of tequila, we'll then head to its namesake town of Tequila, spending two nights on the grounds of an agave farm, sleeping in rooms shaped like barrels! We will explore three artisanal tequila distilleries in the area, learning about
the tequila-making process as it has operated for hundreds of years. And although the holiday isn't really a big deal in Mexico (it's mainly just recognized in Puebla where the Mexican army defeated the French army in battle), we are going to be in Tequila on Cinco de Mayo, sipping on craft tequilas to celebrate the day!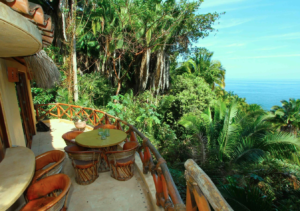 From Tequila we will make our way to the lush coastal jungles of Nayarit, staying three nights in a jungle lodge that was in fact the first certified sustainable eco-lodge in all of Mexico. This will be our home base from which to explore the flora, fauna, and local communities of San Pancho and Sayulita. Cultural offerings include a cacao ceremony
and temazcal, the pre-Columbian Mesoamerican "womb of the earth" sweat lodge. Eco offerings include jungle hikes, yoga, kayaking, SUP, surfing, sailing, and snorkeling. We will also engage in a language and culture exchange with local students through a fantastic community organization. From Nayarit, we will head to Puerto Vallarta for a tour of this vibrant coastal town before saying "¡Hasta la próxima!" and flying out.
Island Immersion is teaming up with Happy Hour Spanish for this trip. Check them out if you are trying to get your Spanish up to speed for this trip or for other language and travel goals. Current Happy Hour Spanish Immersion students receive a $100 discount on the cost of this Tequila y selva trip. If you want to sign up for Happy Hour Spanish, it's only $72 for one year! Access over 40 immersive lessons with videos, grammar tutorials, and podcasts to build your Spanish language proficiency.
This trip at a glance (8 nights/9 days):
3 nights Guadalajara
2 nights Tequila
3 nights Riviera Nayarit
Included:
8 nights' accommodation in Mexico
Daily activities with transportation included
2 meals/day.
Not included:
International airfare (arrive GDL/depart PVR)
Required international travel insurance
Spending money for 1 meal/day, souvenirs, etc.
Trip cost:
Current Happy Hour Spanish Immersion students: $1,990 per person sharing*
Non-Happy Hour Spanish Immersion students: $2,090 per person sharing*
*If you would like your own room, please enquire about the single supplement charge.
Email me at kathy@islandimmersion.com for more detailed itinerary information, costs, timeline, and your application. This small group is capped at 12 so apply today to secure your spot! You do not need to put any money down or sign anything to apply – simply complete and return your application before January 15, 2021. In mid-January we will assess the Covid situation and confirm whether the trip can run. If it's a "go!", we will reach out to applicants and if you're in, we'll get you set up with all the next steps.
Join Island Immersion and Happy Hour Spanish for Tequila y selva (tequila and jungle)! Be more than just a visitor in Mexico. Dive deep into the country's linguistic, cultural, and ecological offerings on this 8-day/9-night immersive exploration of Jalisco and Nayarit. Tequila y selva – 1-9 mayo 2021. ¡Nos vemos ahí!